The US is a top spender on healthcare, but many of the drug products that Americans use are produced overseas. Both APIs and other materials, such as capsules, are often sourced from other countries and continents.
Gelatin is a key ingredient in pharmaceutical manufacturing and is used to make both hard and soft capsules. Gelatin is made from collagen derived from the connective tissues and bones of beef and/or pork. Capsule suppliers also use plant-derived formulations to provide hard-capsule options to vegetarian and vegan consumers, but the industry generally prefers to use gelatin because of its low cost.
Recently, drug manufacturers have experienced capsule shortages due to the impact of the COVID-19 pandemic on pharmaceutical supply chains. Gelatin supply disruptions have shed light on how the industry's reliance on Asian and European suppliers may jeopardize the stability of pharmaceutical manufacturing. Cultivating alternate suppliers now and switching to manufacturers on the American continent can help prevent future manufacturing issues.

Gelatin and other shortages during COVID-19
Raw gelatin is often sourced from countries across North or South America, Europe, or Asia. The biggest raw gelatin importer is the US, which brought in $258 million worth of gelatin in 2018, with about 20 percent coming from Asia and 25 percent from Europe (Figure 1) [1].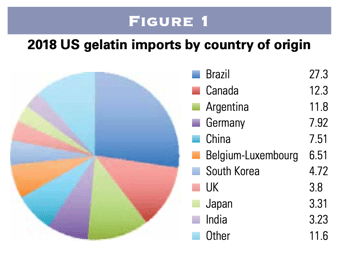 During the pandemic, many countries have shut down meat-processing facilities and euthanized animals, limit- ing the availability of gelatin. Indian capsule manufacturers have cut production by 30 to 40 percent due to a lack of raw gelatin, and capsule prices have risen because gelatin demand has driven costs up [2].
Other pandemic-related problems have also arisen throughout the pharmaceutical supply chain. Many Asian manufacturing facilities shuttered operations in the wake of COVID-19. Indian pharmaceutical companies, which receive 70 percent of ingredients from Chinese manufacturers, responded by limiting the export of dozens of pharmaceuticals [3].
Additionally, many nations have closed their borders and restricted flights in recent months, leading to ship- ping delays. These factors have led to concerns about medicine availability throughout North America.
Ethical concerns about Asian manufacturing facilities

Through the 1960s, US drug products were largely manufactured domestically. Over the following decade, pharmaceutical manufacturing began shifting away from the North American continent, and now largely takes place in various Asian countries [4]. The primary reason for the shift was lower prices, but Asia's less stringent regulations, low labor costs, and lax environmental laws come with ethical concerns.
Because the FDA doesn't inspect overseas facilities as regularly as it inspects domestic ones, quality may be a concern. In 2018, the FDA inspected only 20 percent of registered drug manufacturing facilities abroad [5]. These inspections have found that many Asian manufacturing facilities systematically manipulate data, provide false information, and limit facility access to their US partners, leading to concerns about quality control and health risks for American consumers [6]. Because these issues occasionally require companies to repeat manufacturing runs, the cost savings of overseas manufacturing may not be as significant as they once were.
Concerns about quality have only increased with COVID-19. The FDA has halted in-person overseas inspections during the outbreak [7]. North American buyers have less information than ever about the status or reliability of overseas products.
Keep learning about capsule technology trends...
Increased use of gelatin
The reduced pharmaceutical supply of gelatin isn't necessarily a recent or temporary phenomenon. The population in many industrialized countries is rap- idly aging, as life expectancy increases and birth rates decline. Older adults are more likely to have chronic conditions and require a variety of prescription medications, meaning that the pharmaceutical industry will need to produce increasing quantities of drug products to keep up with demand.
Increased gelatin use in a variety of food and cosmetic products is also straining the supply. Gelatin's popularity as a food additive is rising because of its health-boosting properties, such as antioxidant capabilities, and functional benefits, such as cryoprotectant and food-stabilizing properties [8]. Plus, cosmetics manufacturers are increasingly using collagen and gelatin in skincare products for their perceived anti-aging benefits, although scientific data showing efficacy is limited [8].
Importance
of reliable supply chains
COVID-19 is predicted to continue to affect companies' day-to-day operations for the near future, indicating that ingredient shortages may linger or may come and go as future outbreaks rise and fall in various nations. Additionally, some experts warn of the risk of additional global pandemics. Using reliable and transparent suppliers can help the pharmaceutical industry better weather future global upheaval.
International relations are also playing a role in sourcing materials. In addition to more limited flights and border closings, trade tensions have risen between the US and China. A leading Chinese economist recently suggested that China curtail its exports of raw pharmaceutical materials to the US [9]. Sourcing ingredients domestically or within the same geographic area and minimizing long-distance shipping can help protect manufacturers' supply chains.
Handing over the majority of pharmaceutical supply operations to other countries also increases security risks. If the US is unable to produce its own medicines, it's more dependent on and vulnerable to other nations that provide the supply. In particular, centralizing drug allocation in one country, such as China, may lead to interruption of medicine supply due to outside forces, such as a pandemic, human error, or intentional tampering.
Furthermore, when a single other country controls a large market share in manufacturing drugs for America, it can easily control the prices that the industry and consumers pay here. To reduce risk to US national health security, in recent years several US politicians and experts have called for increased local production of medicines and have recommended purchasing supplies from trustworthy, qualified manufacturers rather than focusing on price [10].
It's important to choose suppliers that are focused on quality, transparency, and purchasing ease. This helps protect future manufacturing against ingredient shortages and sourcing problems. Having a reliable empty-capsule supplier that sources quality materials and operates within the manufacturer's geographic area is increasingly import- ant to avoid future disruptions in the supply chain. T&C
References
1. Observatory of Economic Complexity, "Gelatin" (HS: 3503), Available at: https://oec.world/en/profile/ hs92/gelatin.
2. Nehal Chaliawala, "Covid-19 impact: Squeeze on abattoirs is also hurting capsule makers," The Economic Times, May 28, 2020.
3. Hannah Ellis-Petersen, "India limits medicine exports after supplies hit by coronavirus," The Guardian, March 4, 2020.
4. Janet Woodcock, "Securing the US Drug Supply Chain: Oversight of FDA's Foreign Inspection Program," Testimony before the House Committee on Energy and Commerce, Subcommittee on Oversight and Investigations, December 10, 2019.
5. United States Senate Committee on Finance, "Grassley urges HHS, FDA to implement unannounced inspections of foreign drug manufacturing facilities," August 7, 2019.
6. Katherine Eban, "A Healthy Relationship? Assess- ing the Risks and Opportunities of China's Medicine and Health Development," Testimony before the U.S.- China Economic and Security Review Commission, July 31, 2019.
7. US FDA, "Manufacturing, supply chain, and drug inspections: COVID-19," April 9, 2020.
8. Dasong Liu, et al., "Collagen and gelatin," Annual Review of Food Science and Technology, April 2015, Vol. 6, pages 527-557.
9. Didi Tang, "China threat to halt US antibiotics sup- ply," The Times, March 11, 2019.
10. Rosemary Gibson, "Exploring the growing US reliance on China's biotech and pharmaceutical products,"
Testimony before the US-China Economic and Security Review Commission, July 31, 2019.
Jonathan Gilinski is executive director of CapsCanada