As the dietary supplements' shelf gets increasingly crowded, health-conscious consumers are getting increasingly aware and demanding as they scrutinize your product's label to see just how "natural" it really is. Are you using vegetarian capsules? Are these natural capsules Kosher/Halal-certified, non-GMO, free of toxins, allergens, heavy metals, etc.? And by the way—what's in that nice red color? Is that natural, too?
If you're using K-CAPS® HPMC capsules with natural colorants, your product's color can be part of your "we're committed to bringing you safer, more natural products" message.
Here's what you need to know about this unique and exciting capsule option…
What are natural colorants and what advantages do they offer?
As the name implies, natural colorants are colorants made from natural sources such as flowers and algae, rather than from synthetic sources. Natural colorants are gaining importance due to both health and environmental issues.
The advantages of using natural colorants as the source of dyes in the empty capsules used to manufacture your products are all things that matter greatly to your core customers:
Nutritional value

– Unlike their synthetic counterparts,

most natural pigments

have a high nutritional value.Algae, for example, contains beta carotene, which is a good source of vitamin A. Because the human body converts beta carotene to vitamin A via body tissues and not the liver, beta carotene does not cause the buildup of toxins in the liver. Beta carotene also has antioxidant qualities.

Eco-friendliness

– The process of producing

natural colorants from algae and other natural sources

does not involve the use of harmful and/or polluting chemicals. Plus, most of the effluents that are produced are biodegradable and can be reused as fodder, bioplastics and more.

Non-toxic and non-carcinogenic

–

Pigments derived from natural sources have been certified as safe for use as food colorants.
Do natural colorants work as well as synthetic colorants for HPMC capsules?
Yes! You can choose these colorants for your natural capsules with confidence that the performance will be the same. For CapsCanada's K-CAPS® this means:
Same opportunity to use color to differentiate your brand
Same very high-quality pharmaceutical-grade HPMC
Same consistently high capsule quality
Same ability to withstand variations in temperature and humidity
Same capsule shelf life
Same dissolution profiles
Same masking properties
Same excellent performance and high yields on your filling machines
The only performance consideration to be aware of is that some natural colorants will fade when exposed to UV or IR light for periods of time, so you'll want to take this into consideration in your packaging.
What color natural colorants does CapsCanada offer?
K-CAPS® HPMC capsules are now available in the following colors: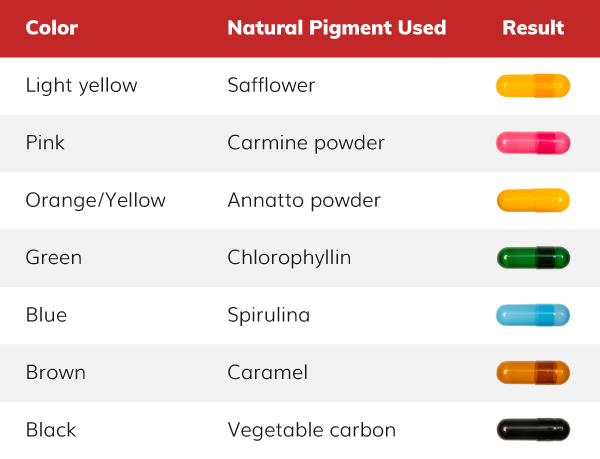 Are there any special considerations when choosing a color scheme for our capsules?
Yes. Although your K-CAPS® can be customized to use any color in the above chart, which color you should use depend on where your products will be sold.
This is because of a unique issue in the dietary supplements world: From the regulatory standpoint, there is no one definition of what constitutes a "natural colorant." The definitions vary from one country to another. So, for example, a green capsule that has been colored using chlorophyllin, a substance made from a particular type of algae, is considered to be "natural" in Germany but not in the U.S.
This regulatory issue can affect your ability to make the use of a natural colorant part of your clean label claims.
If your goal is to make clean label products and are not sure what is and is not permissible in your end markets regarding this claim, let us know. Our team of regulatory compliance experts is available to assist you. We'll check all of the relevant pharmacopeias and then provide the guidance you need to be able to claim that the natural colorants you use are all officially "natural."
The other thing you need to be aware of is that because they are natural, the shades or hues of natural pigments can vary. Not all annatto seeds, for example, are the exact same shade of red. Not all safflower flowers are the exact same shade of yellow. This means that there can be slight variations in the color of your product from one batch to the next. If absolute uniformity is important for your brand, synthetic colorants are your best option.
How will I know what the colors will look like in use?
If you are considering ordering K-CAPS with natural pigments, our manufacturing facility can prepare "film strips" for your review. Film strips are color samples made from the actual HPMC material used to manufacture the capsules. This will show you exactly what your desired color will look like on your vegetarian capsules and give you the opportunity test its masking abilities.
Conclusion
The bottom line is, CapsCanada is dedicated to helping our customers succeed. Enabling you to use natural colorants to make your product even more "natural" is just one example of how we do this.