When we talk to nutritional supplements makers, they often tell us that their customers are demanding "clean labels" and products that are as "natural" as possible. K-CAPS® vegetarian empty capsules with natural colorants were developed to meet this demand. After all, when your customers are scrutinizing every aspect of your product, the empty capsules that your fill material is encapsulated in need to be as natural as the fill material itself.
All K-CAPS® empty capsules share some important characteristics
The good news is that the quality and dissolution properties of K-CAPS® natural color capsules are the same as that of K-CAPS® made with synthetic colorants…they're simply a more natural product.
Plus, whether made with natural colorants or synthetic colorants, all K-CAPS® empty capsules are…
Made from HPMC, a plant-derived material

Vegetarian and Vegan Registered with the Vegan Society

Kosher and Halal certified

Non-GMO

Free of preservatives, allergens, and starches
What are the sources of the colorants used to make these natural color capsules?
As the name implies, natural colorants are derived from natural sources. Here's what you need to know about the source of each of the natural colorants that CapsCanada uses to make natural color capsules…
Annatto
Bixa Orellana
Annatto natural colorant is an aqueous alkali that is extracted from the spiney seed pods of the annatto bush. The solution is pH adjusted by the addition of potassium hydroxide and then spray dried using dried glucose syrup and maltodextrin as carriers.
In the European Union, annatto natural colorant is also referred to as norbixin. Ver más

    Learn more




Brown Carrot
Caucus carota L. and Daucus carota ssp. Sativus var. atrorubens
Brown carrot natural colorant is not made from brown carrots. Instead, it is made from purple carrots and black carrots. To control the pH, citric acid is added at the time of harvest. It is then concentrated and dried without the use of any carriers.

    Discover more


Caramel
Caramel natural colorant is a liquid that is obtained by the controlled heat treatment of plant-based glucose in the presence of ammonium sulfite.
Purple Sweet Potato
Dioscorea alata
Purple sweet potato natural colorant is made from purple sweet potatoes. To control the pH, citric acid is added at the time of harvest. This natural colorant is then concentrated and dried without the use of any carriers.
Red Radish
Raphanus sativus
Red radish natural colorant is produced from red radishes. To control the pH, citric acid is added at the time of harvest. This natural colorant is then concentrated and dried without the use of any carriers; the end result is non-hygroscopic and readily soluble.
Safflower
Carthamus tinctorius
Safflower natural colorant is a concentrated aqueous extract made from the flower of the safflower plant.
Sodium Copper Chlorophyllin
Festuca arundinacea and Medicago sativa L
Sodium copper chlorophyllin natural colorant is an extract obtained from vegetables.
Learn More
Spirulina
Arthosphira Platensis
Spirulina natural colorant is extracted from Arthrospira platensis, which is an edible blue-green algae. The colorant is obtained via water extraction and then spray dried to form a powder.
Annatto + Spirulina
Bixa Orellana + Arthosphira Platensis
By combining the properties and benefits of Bixa Orellana (annatto) and Arthosphira Platensis (spirulina) together, they achieve a green color that is perfect for supplements and vitamins.
Vegetable Carbon
Vegetable carbon natural colorant is produced by the carbonization of vegetable material such as wood, cellulose residues and peat, as well as coconut and other shells. The activated carbon produced is then milled by a roller mill. The resulting highly-activated powdered carbon is treated by a cyclone. The fine fraction from the cyclone is then purified via a hydrochloric acid washing, neutralized and then dried.
The natural colorant produced using this method is traditionally known as "vegetable black." To create a colorant with higher coloring power, the fine fraction is subjected to further cyclone treatment or extra milling, followed by acid washing, neutralizing and drying.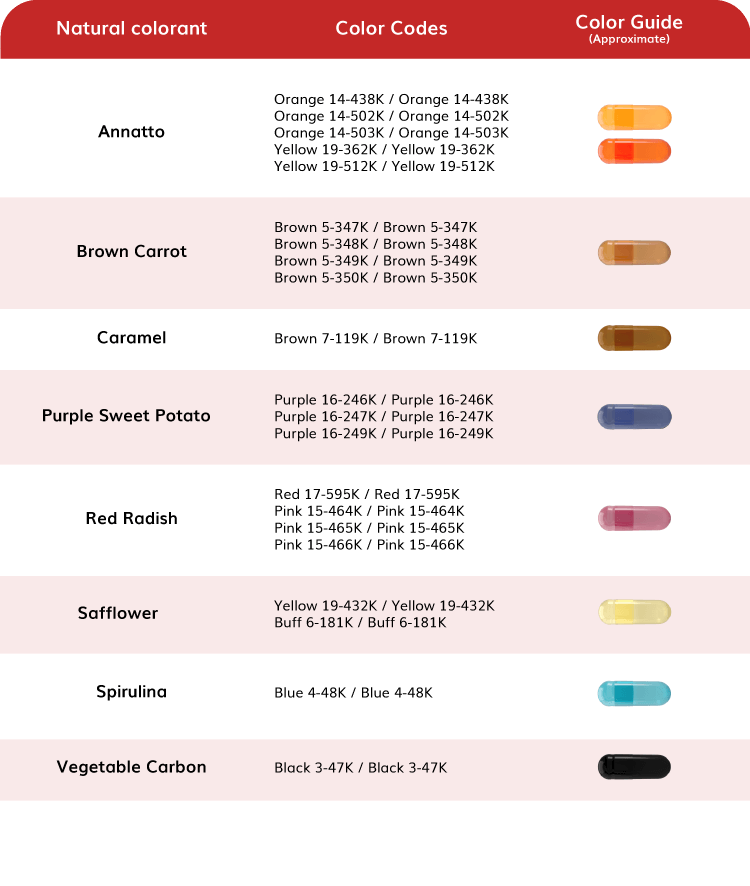 Conclusion
To request samples or to connect with an encapsulation expert to discuss how natural color capsules can benefit your nutritional supplements.