For over a year now, chlorophyll has been, as the saying goes, "having a moment." Chlorophyll is trending. It's hot, it's popular and, in the supplements market, it's in high demand.
Whether or not you are selling chlorophyll supplements, what do you need to know about the chlorophyll trend—and how can you capitalize on it?
What is chlorophyll?
Just like you learned in science class, chlorophyll is the green pigment found in plants that plays an important part in photosynthesis. Chlorophyll is what makes green plants green and helps transform sunshine into food. Chlorophyll is also one of the pigments used in natural colorants.
What is chlorophyllin?
Chlorophyllin, which also has a green color, is a semisynthetic mixture of sodium copper salts that are extracted from chlorophyll. While chlorophyll is oil soluble, chlorophyllin is water-soluble. The process of converting chlorophyll to chlorophyllin is called "saponification," which, among other things, involves removing the non-water-soluble elements.
Because chlorophyll degrades quickly and is not water-soluble, chlorophyll supplements are actually made from chlorophyllin.
What is chlorophyll trending?
In short, chlorophyll is at the heart of a wellness craze that is especially popular on TikTok. TikTokers and others are making a wide variety of health claims regarding chlorophyll supplementation. These claims include that chlorophyll is an …

Immune booster

, due to its

antioxidant

effects

Anti-inflammatory

Acne fighter

Wrinkle reducer

Body odor reducer

Blood health booster

Wound healer

Cancer preventer
Are all of these claims about chlorophyll's purported health benefits true? For the most part, that's a matter of controversy. Studies have shown that chlorophyll and chlorophyllin do have antioxidant properties, while pheophorbide, which is a breakdown product of chlorophyll, appears to have anti-inflammatory properties. Studies related to the other claims, some of which can be considered anecdotal, have mostly involved very small numbers of participants.
Although the science behind the chlorophyll trend needs strengthening, it is nonetheless a strong trend that is worth capitalizing on.
With chlorophyll color capsules you can capitalize on three trends at once
For nutraceutical brands that encapsulate their products in two-piece hard capsules, K-CAPS® vegetarian capsules made with chlorophyll-based natural colorants can provide a triple benefit:
Give you a reason to put "chlorophyll" on your product packaging

– You can add a burst stating that your product is made in

chlorophyll




Add to your "clean label" claims

– K-CAPS

®

made with

natural colorants

have received Vegan Registration from the Vegan Society, are Kosher and Halal Certified, cGMP Certified, non-GMO Project Verified, and free of both starches, preservatives and titanium dioxide. Natural pigments such as

chlorophyll

are an ideal choice for health-conscious consumers who are concerned with dye consumption.

Have a product that is literally "green"

– Nutritional supplements consumers are often looking to "go green" in many aspects of their lives. A green-colored product ties into the consumer's positive associations with the color green.
Plus, K-CAPS® chlorophyll capsules can be filled with liquids, powders, granules, beads, tablets, gels, and pastes. This is a big advantage over softgels and tablets, which do not offer this formulation flexibility.
It's no wonder we're seeing such a high demand for this product!
Chlorophyll capsules are particularly popular for CBD and THC encapsulation
If you want to encapsulate a liquid form of CBD or THC, such as an oil, extract or tincture, softgels can be problematic. They are sensitive to climate, can leach plasticizers and can cause some formulations to degrade. Tablets, of course, cannot be used for liquid formulations at all.
Two-piece hard capsules, which can be used to encapsulate CBD and THC in both liquid and powder forms, address this problem while masking the unpleasant odors and flavors associated with CBD and THC. Chlorophyll capsules take things a step further by also providing a capsule that is green, which is the color associated with cannabis-based products.
K-CAPS® chlorophyll vegetarian capsules are even available preprinted with the THC logo.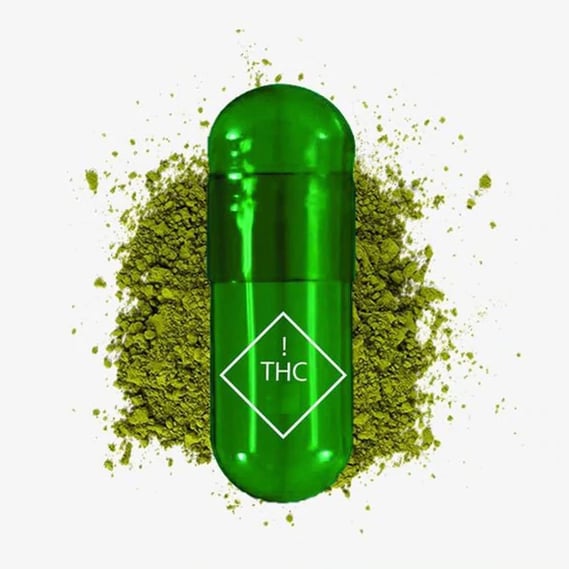 Foto: K-CAPS
Conclusion
Capitalizing on market trends can be a great way to increase your market share. For CBD, THC and other nutraceutical products that you are already producing in two-piece hard capsules, chlorophyll capsules provide a unique way to capitalize on the chlorophyll trend without impacting your supplement's formulation. Simply change the capsule and add "Now in Chlorophyll Capsules!" to the packaging.